Best Home Storage Solutions for Kitchens and Bedrooms:
Storage solutions are a clever and ingenious use of space if thought out properly considering the space you initially have to start with, We can help you with some of the best storage solutions for your kitchen or bedroom by using ultimate space saving carousel systems for kitchen corner cupboards and hanging rail unit's for both kitchens and bedrooms.
Kitchen Corner Storage Solutions:
Corner storage is something you should definitely consider when fitting a new kitchen or bedroom, rather than having a wasted corner space the are a number of options where you can make the most of that corner space which will benefit your overall storage space.
We Have Listed Some Clever Storage Options Along With Images included For You To Look At Below.
Ultimate Carousel – (To Suit 900 L-Shaped Corner)
There is a reason this is called the ULTIMATE CAROUSEL.
With this carousel there is no need for reaching to the back of your corner kitchen cupboard with this carousel, all the trays can meet you at the opening for very easy access.
Full 360 Degree Rotation.
Self Centre Action In Four Locations.
Two Centre Trays and Six Side Trays.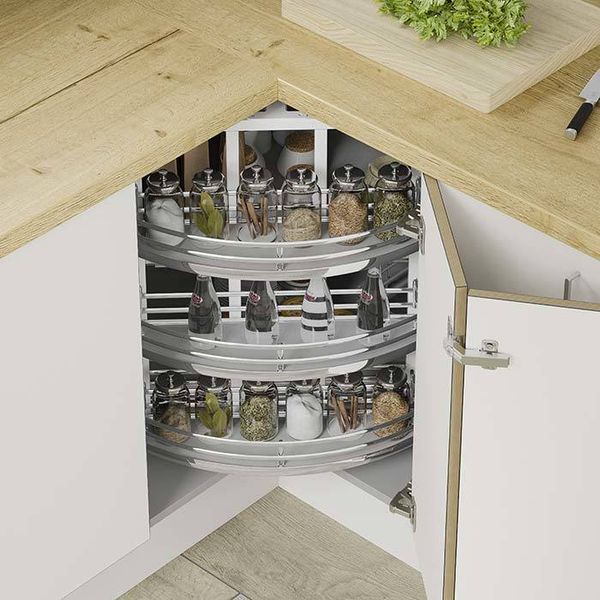 Three Quarter Carousel – (To Suit 900-mm L-Shaped Corner Unit)
This 3/4 Carousel gives great access without having to reach into the corner kitchen cupboard.
You simply just turn each tray to bring what you are after to the door opening.
Full 360 Degree Rotation.
Adjustable Tray Location.
Self Centering Action.
Trays Can Be Rotated Independently.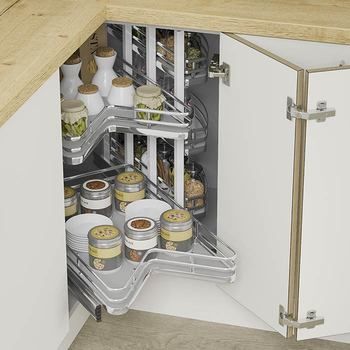 Half Carousel – (To Suit 900-mm/1000-mm blind Corner)
This Carousel suits blind corner kitchen cupboards to fit either a 450mm door or 500mm.
The access is a bit more limited as the front of each tray will come to the door opening and you will need to reach in for items on the back of each tray.
Solid bases are also available.
Completely Universal.
Adjustable Tray Location.
Left Or Right Hand.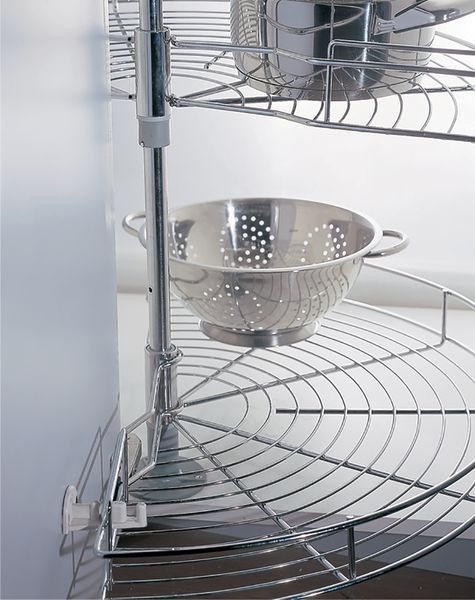 Nuvola Twin Shelf Unit – (To Suit 900-mm/1000-mm Blind Corner)
This is a great solution for blind kitchen corner storage.
Each tray will swing out of the cupboard independently which will give full access to the items stored on them.
To keep these working at their best don't exceed the 20kg limit per tray.
Two Independent Swing Shelves.
Solid Strong Base For Heavier Items.
Nice Looking Chrome Plated Finish.
Available For 450-mm/500-mm/600-mm Door Widths.
Left Or Right Handed Options.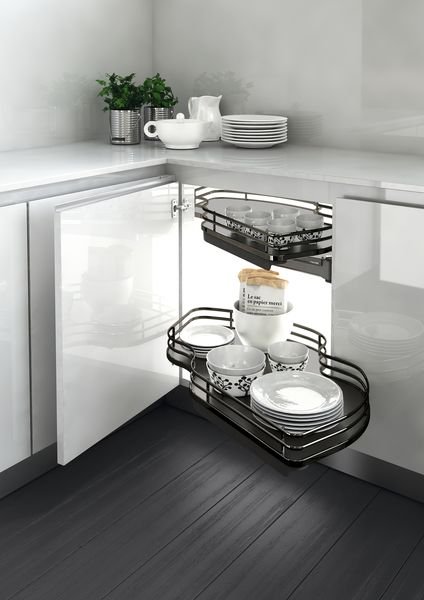 Blind Corner Optimiser – (To Suit 800-mm/900-mm/1000-mm Blind Corners)
This option is great if you like to have your entire cupboard contents to hand in one simple motion.
Universal Handling.
No Assembly To Door Required.
Can Be Used With Or Without Corner Post.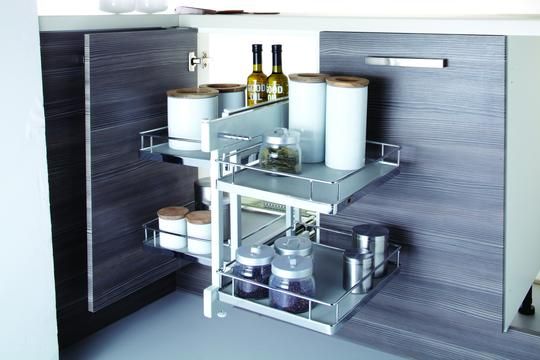 Individual Pull Out Kitchen Storage Solutions:
Individual Pull-Out Unit's Can Come In Really Handy As They Can Hold Much More Than A Traditional Standard Base Or Wall Unit That comes Without The Extra Compartments For Extra Storage.
Pull Out's Come In A Variation Of Uses and A Variation Of Size's To Suit Many Limited Spaces.
Perfect Pull Out Storage Solutions For Smaller Kitchens With Limited space For Unit's, Also Useful for larger Kitchen's where Larger Families Are Present With More Produce To Store Away.
Kitchen Base Unit Pull Outs:
Base unit pull outs offer a full Pull Out extension on concealed runners, Very Handy For Storing Your goods, Get Up To Three Times More Stored Compared To A Stand Alone Unit Where You Would end Up Storing Things On Top Of One Another Which Can Quickly Become Very Untidy And Hard To Find Things Quickly and Easily. 
Kitchen Base Unit Pull Out Unit's Are Available in three different sizes.
Larder Storage Towers - For The Kitchen
Larder storage towers hold a large amount of goods which makes them really handy with your Weekly shopping,
They Don't Take Up much room What ever your Kitchen Design is considering the amount Of Produce they hold For Your Perfect Larder Storage Solution.
Style:
They look stylish, in-keeping with your kitchen where you wouldn't know it was there,
Available in

various Models

and sizes explained below.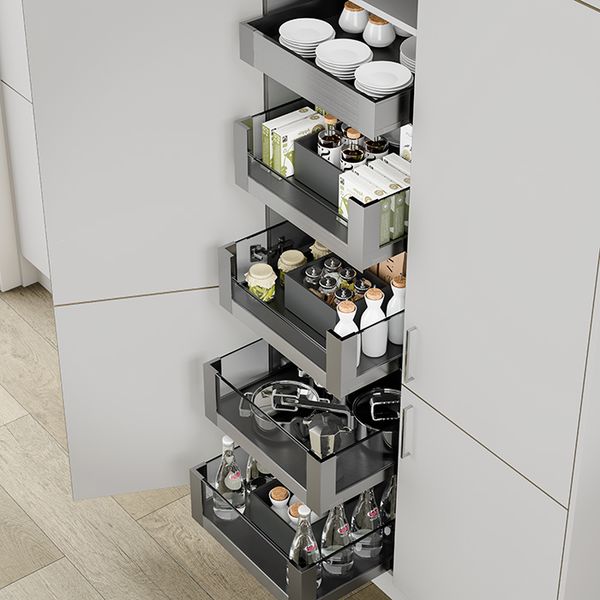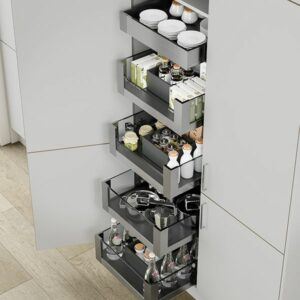 Blum Legrabox - Free Space Tower:
Available Sizes: 300-mm/400-mm/500-mm/600-mm Width's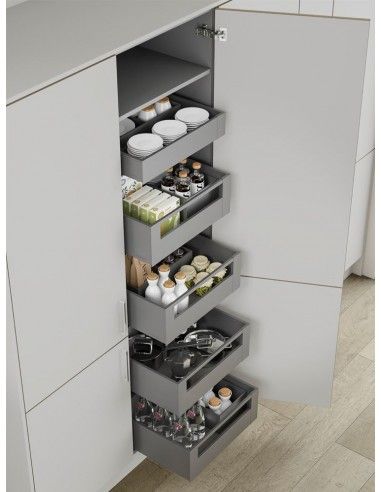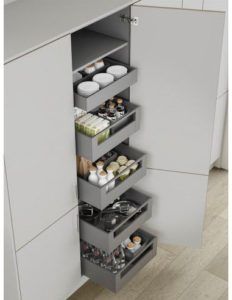 Blum Legrabox - Pure Space Tower:
Available Sizes: 300-mm/400-mm/500-mm/600-mm Width's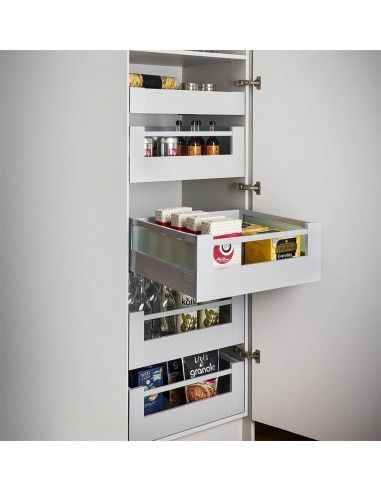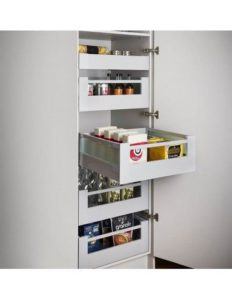 Blum Tandembox - Pure space Tower
Available Sizes: 300-mm/400-mm/500-mm/600-mm Width's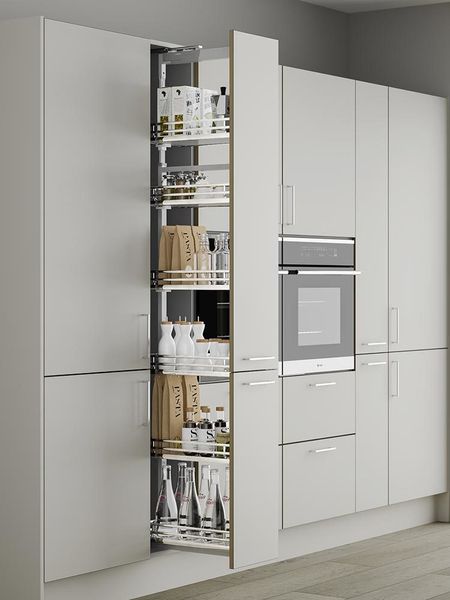 Larder Plus Storage Tower:
Adjustable Height From 1680-mm To 2175-mm.
Includes Six Trays.
Three Way Door Adjustment.
Full Extension Opening.
Full Height Larder.
Includes Six Baskets.
Adjustable Door Fixing Brackets.
Spice Racks - For Storing Your Spices Tidy:
Storing your spices tidily makes for more convenience for the chef of the house, having all your spices on a suitable rack also make for tidy living and Another Great space saving Storage Solution, Our spice racks are Of Good Quality, constructed of all welded steel construction.
Available in three different sizes where you may require reduced depth
Two Tier Spice Rack.
Three Tier Spice Rack.
Four Tier Spice Rack.
Wine Storage Racks For Kitchens:
Wine racks are not only good for storage, they ensure that you have no unnecessary accidents whilst keeping your wine in a safe secure place rather than just left on the side or in the fridge taking up vital space for your everyday goods.
All of our wine rack Storage solutions are made to suit all standard sized kitchen wall and base unit's, They are all supplied with fixing bracket's,.
Available In Various Styles and Sizes So The more wine you like to keep at home the bigger unit you would want to have fitted into your existing cupboard.
150-mm – Holds Five Bottles.
300-mm – Holds Ten Bottles.
600-mm – Holds Twenty Bottles. 
Waste Bin Storage Units For Kitchens:
Bin sizes range from 20-Litre to 90-Litre variations, Some units are based mounted, others are door mounted and side mounted, base mounted being the most popular choice amongst consumers.
Base mounted pull out 20-Litre waste bin:
Complete with integrated lid and handle which automatically gives you access to the bin as the door is opened.
Base Mounted Pull Out Segregated 40-Litre Waste Bin:
Comes with full extension runners allowing you to pull all the way out for easy access, has a load capacity of 30-KG, It has a plastic formed fixed lid with integrated handles for ease of use.
Door Mounted 12-Litre Polished Steel Waste Bin:
This unit is pretty much the same as the base mounted only its door mounted, once the door is opened you have easy access to the bin which again has an integrated handle for ease of use.
Side Mounted pull Out Segregated 90-Litre Bin Waste:
Full extendable having side mounted runners, fixed integrated lids with integrated handles.
Storage Solutions For Bedrooms:
There are multiple ways to improve on your bedroom storage whether it be a new bedroom or your existing bedroom, we can help you find some of the best storage solutions for the bedroom
Smaller bedrooms typically need clever storage solutions to make more room by utilising the space you already have by adding either under-bed or over-bed storage can save a lot of space, under bed pull out drawers or sprung mattress that lifts up enabling you easy access to easily store under the bed, Over-bed storage would be a section of multiple units as an overhang over the bed which usually come with bed-side units.
Often rooms come with a breast wall with a recces either side that's barely utilised to it's full advantage, you can make use of those recces spaces by adding made to measure integrated wardrobes which often include drawers to the bottom area along with integrated shoe racks for storing your shoes out of the way tidily.
10 Best Bedroom Storage Solutions For The Home:
Utilise Shelving With Attached Hangers Underneath.
Hang Over Door Organisers.
Built In End Of Bed Ottoman.
Under-Bed Storage Drawers.
Over-Bed Storage Unit's.
Use Wall Hooks For Hanging Clothes.
Make Or Buy A Shelf To Fit on Top Of Your Radiator.
Make Use Of Shelving Around The Room.
Use Tall But Slim Bookcases To Store Your Goods.
Use Drawer Divider Trays To Store Multiple Items Tidily In One Space. 
Just to name ten, We can help you with all the best storage solutions for the home.
Visit our local showroom in Kinmel Bay or just give us a call, we're here to help you out, all our advice and planning is free of charge with no obligations or pushy sales tactics.
When it comes to the best bedroom storage solutions, the first thing you need to consider is what kind of items do you want to store and what space is available.
Clothes storage is a must for us all which would go in a wardrobe or chest of drawers, extra hidden storage can be found in the way of under bed drawers or a ottoman bed.
Depending on what bedroom furniture you choose, some may have the option of extra storage hidden in the way of a headboard, this space is ideal for those who change their winter/summer duvets or storing bedding, towels etc.
Fully fitted furniture maximises space in any bedroom, this way your wardrobes would go from floor to ceiling and can be designed to suit the customer.
Book Your Free Kitchen Or Bedroom Design Plan with Us Today:
E'Mail - info@conels.co.uk



Tel:- 0800 774 7804 - OR - 01745 350 236