Best Home Storage Solutions for Kitchens and Bedrooms:
Storage solutions are a clever and ingenious use of space if thought out properly considering the space you initially have to start with, We can help you with some of the best storage solutions for your kitchen or bedroom by using ultimate space saving carousel systems for kitchen corner cupboards and hanging rail unit's for both kitchens and bedrooms.
Kitchen Corner Storage Solutions:
Corner storage is something you should definitely consider when fitting a new kitchen or bedroom, rather than having a wasted corner space the are a number of options where you can make the most of that corner space which will benefit your overall storage space.
We Have Listed Some Clever Storage Options Along With Images included For You To Look At Below.
Ultimate Carousel – (To Suit 900 L-Shaped Corner)
There is a reason this is called the ULTIMATE CAROUSEL.
With this carousel there is no need for reaching to the back of your corner kitchen cupboard with this carousel, all the trays can meet you at the opening for very easy access.
Full 360 Degree Rotation.
Self Centre Action In Four Locations.
Two Centre Trays and Six Side Trays.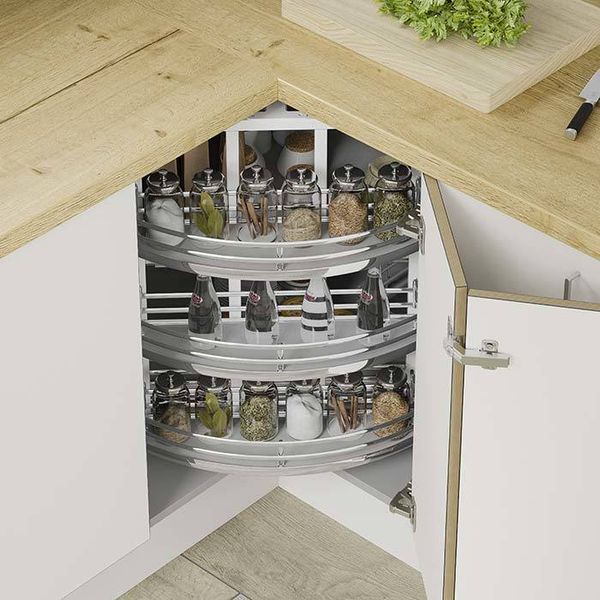 Three Quarter Carousel – (To Suit 900-mm L-Shaped Corner Unit)
This 3/4 Carousel gives great access without having to reach into the corner kitchen cupboard.
You simply just turn each tray to bring what you are after to the door opening.
Full 360 Degree Rotation.
Adjustable Tray Location.
Self Centering Action.
Trays Can Be Rotated Independently.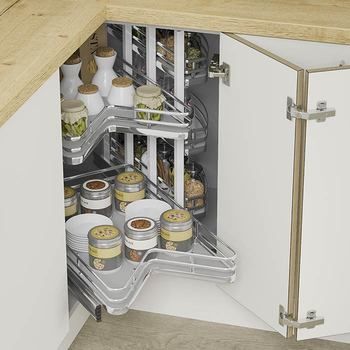 Half Carousel – (To Suit 900-mm/1000-mm blind Corner)
This Carousel suits blind corner kitchen cupboards to fit either a 450mm door or 500mm.
The access is a bit more limited as the front of each tray will come to the door opening and you will need to reach in for items on the back of each tray.
Solid bases are also available.
Completely Universal.
Adjustable Tray Location.
Left Or Right Hand.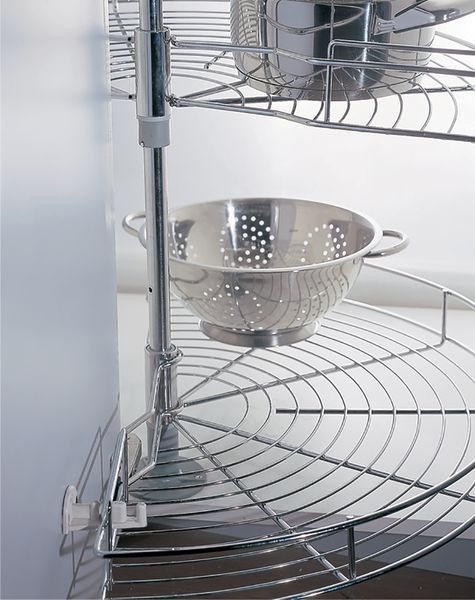 Nuvola Twin Shelf Unit – (To Suit 900-mm/1000-mm Blind Corner)
This is a great solution for blind kitchen corner storage.
Each tray will swing out of the cupboard independently which will give full access to the items stored on them.
To keep these working at their best don't exceed the 20kg limit per tray.
Two Independent Swing Shelves.
Solid Strong Base For Heavier Items.
Nice Looking Chrome Plated Finish.
Available For 450-mm/500-mm/600-mm Door Widths.
Left Or Right Handed Options.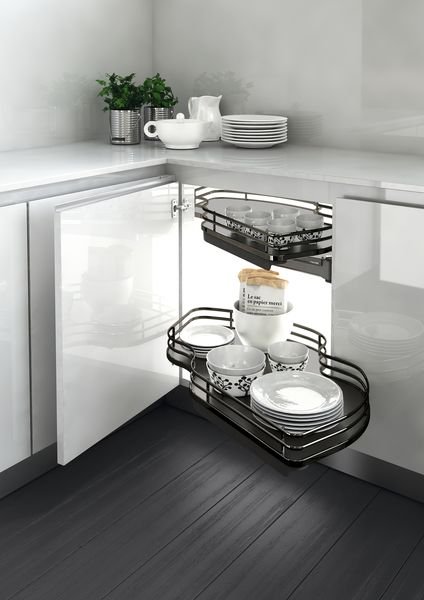 Blind Corner Optimiser – (To Suit 800-mm/900-mm/1000-mm Blind Corners)
This option is great if you like to have your entire cupboard contents to hand in one si